America is waged in a war within itself. Where does America stand with energy and coal usage? In Colorado, they took species off of the endangered species list by breeding lots of more of endangered species.
The Conservative Commandos Radio Show will be speaking with Greg Walcher about the theft of our environment during the December 10 show.

Greg Walcher served in the Governor's Cabinet, leading the Colorado Department of Natural Resources, a department of 2500 employees, 8 divisions, 14 boards and commissions, and a $180 million budget.
Greg Walcher is t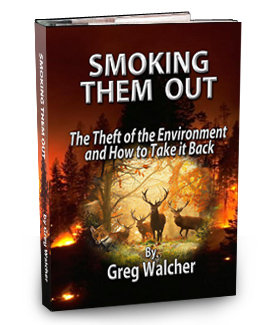 he author of "Smoking Them Out: The Theft of the Environment and How to Take it Back," just published in 2013, and writes a popular blog called "Resources and Reality," on the web at GregWalcher.com.
Greg Walcher is an author, speaker, and one of the country's most recognized and respected leaders in natural resources policy. He is President of the Natural Resources Group, a senior advisory at the environmental permitting firm of Dawson & Associates, and a partner in the global public affairs firm, The Stillwell Group.
In 2004, Walcher was the Republican nominee for Congress in Colorado's 3rd District.
Learn more about Greg Walcher and his work as an author here: http://www.gregwalcher.com
Listen to December 10th's show here: http://www.spreaker.com/user/6683626