The tablets encrypted with the 10 commandments are withering throughout earthly generations. More people than ever are assuming their own moral codes, neglecting what the Lord intended for mankind.
Dennis Prager is an American politically conservative nationally syndicated radio talk show host, columnist, author, and public speaker. The Conservative Commandos will be speaking with him about his marvelous audacity to promote the 10 Commandments as "the Best Moral Code".
Hear the show at this link when it is updated: www.spreaker.com/user/conservativecommandos

In 1982, KABC (AM) in Los Angeles hired Prager to host a talk show on religion every Sunday night. Prager hosted the show for more than ten years.  Since 1999, he has hosted a nationally syndicated talk show from KRLA in Los Angeles Prager also started a website called "Prager University", that offers five-minute videos on various subjects such as the Ten Commandments, minimum wage, the Middle East Crisis, and happiness.
He has been published in the Wall Street Journal, the Los Angeles Times and Commentary. His weekly syndicated column appears on such online websites as Townhall.com,[15] National Review Online,[16] Jewish World Review and elsewhere. He also writes a bi-weekly column for The Jewish Journal of Greater Los Angeles.
He is also the author of seven books:
The Nine Questions People Ask About Judaism (with Joseph Telushkin) (1986) ISBN 0-671-62261-7.
Think a Second Time (44 Essays on 44 Subjects) (1996) ISBN 0-06-098709-X.
Happiness Is a Serious Problem: A Human Nature Repair Manual (1999) ISBN 0-06-098735-9.
Why the Jews? The Reason for Antisemitism (with Joseph Telushkin) (2003) ISBN 0-7432-4620-9.
Still the Best Hope: Why the World Needs American Values to Triumph (2012) ISBN 0061985120.[17]
The Ten Commandments: Still The Best Moral Code (2015)
The Ten Commandments: Still The Best Path To Follow (for children) (2015)
You can purchase Prager's book here: www.amazon.com/The-Ten-Commandments-Still-Moral/dp/1621574172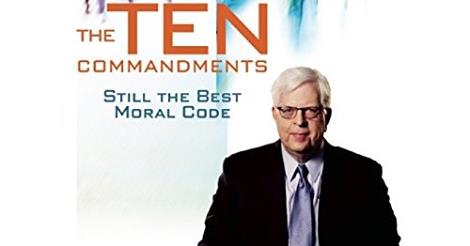 ---
Thanks we hope you enjoyed our CCRShow Blog and that you will visit often, and please send us a message and/or a comment below about the shows or guests.
The Conservative Commandos are leading the charge, saving you from the liberal agenda!